Thanks to those in Montreal helping.
We LIST facts to show how our problems with shady stockbrokers at TD WATERHOUSE MONTREAL handling our fathers estate in 2008 circle outwards to BOTH Project Colisee, through the Vito Rizzuto friend, Guy Marc Aurele and also outwards to the famous scandal, the Affaire Norbourg, with its loss of $130000000 - the stockbroker defrauding us, FRANCINE HAMELIN, is a partner of GUY MARC AURELE, and the wife of YVON DUCHAINE, involved with and leading the fight to get his paws on $55000000 of investor compensation money!
PLEASE TAKE THE TIME TO READ, CANADIANS ALL LOOK FORWARD TO THEIR PENSIONS, INSURANCE, SAVINGS, IN BANKS AS TRUSTED AS TD AND RBC.
Update: April 15, 2013

The Mysteries Of $55,000,000 Of Taxpayers' Money, Linked To Organized Crime

A Spin-Off Crime From The Norbourg Affair?

People Who Play Both Sides Of The Norbourg Affair

For Personal Gain

The List of Investors Receiving $55.000,000 Of Taxpayers' Money Must Be Publicly Listed – There are Organized Crimes connections here.

We are fighting fraudulent stockbrokers at TD Waterhouse/TD Bank in a story that has passed through 3 stages – see below information for earlier websites, and full details.

We make a very short version here to include the 2013 update on how FRANCINE HAMELIN, one of the TD stockbrokers defrauding us, and signing on the estate handling of our deceased father, is the WIFE of YVON DUCHAINE, listed as PRINCIPAL DIRECTOR of 3677842 Canada INC. He obscures his identity and leadership in this company's successful fight to obtain $55,000,000 in taxpayers' money for the losses of investors in the Norbourg Affair. He does complain openly about he was seriously damaged by the initial crimes of Vincent Lacroix, principal leader of the mutual funds crimes Norbourg Affair.

YVON DUCHAINE 3677842 Canada Inc. And $55,000,000 From Norbourg Affair

Go to Google Search, find the free PDF. of the group legal action brought against the Quebec government, look at the first page. Two solitary investors are listed, Michel Vezina and Wilhelm Pellemans, then the government regulating body which is being sued for not protecting investors in the Norberg Affair, then the name of a corporation 3677842 Canada INC. implied to be representing 138 specific investors. Some later media accounts say this lawsuit was on behalf of over 9000 investors. The number is crucial, as there is secondary crime here.
| | |
| --- | --- |
| Principal Name: | Yvon Duchaine (Director) |
| | |
| Company Name: | |
Though Yvon Duchaine is an ASSOCIATE of Guy Marc-Aurele, the lifelong friend of Vito Rizzuto, acknowledged leader of Canada's organized crime families. His wife, FRANCINE HAMELIN, is a former legal business partner of Guy Marc-Aurele.

YVON DUCHAINE And FRANCINE HAMELIN, Stockbroker

They are a married couple. Their holiday home in Hollywood, Florida, is a twenty minutes drive away from the Hallandale holiday home of Guy Marc-Aurele, the friend of Vito Rizzuto. In that Francine Hamelin and Guy Marc-Aurele already connect in Las Vegas, Nevada, where they formed a corporation whose business licence is now revoked, it is not unreasonable to think that YVON DUCHAINE, FRANCINE HAMELIN , and GUY MARC-AURELE meet here.

FRANCINE HAMELIN and YVON DUCHAINE, VITO RIZZUTO Associate and Friend

This is a FACT. These two Montreal based residents and friends formed HARVARD Corporation in Las Vegas, Nevada, and this corporation is now marked as revoked on business records.

Yes, this sinister connection - this was Dad's life savings – struts about the TD Waterhouse offices in her silk designer dresses and elegant high heels – unknown to our family – while flying to LAS VEGAS, NEVADA – on business trips – with GUY MARC-AURELE, friend of VITO RIZZUTO, Canadian Mafia leader.

Why? Why was she allowed near our family money? Why do all complaints about her go overlooked? Why is she so lucky? Why is she alone so protected? Why?

Yet, my father's financial estate entrusted to TD Canada Trust, Wills and Estates, for many years before he died in Montreal on July 31, 2008, suffered FRANCINE HAMELIN, a derivatives stockbroker, suddenly take hold of this estate in the autumn of 2008, with partners at TD Waterhouse Greg Borowik and Jocelyne Meloche.

FRANCINE HAMELIN, and TD Waterhouse/TD Bank Montreal

Francine Hamelin is a most lucky girl.

Do all complaints against her go ignored because – her own HUSBAND is a LEADER in having the return of $55,000,000 to investors in the NORBOURG AFFAIR?

She has already created falsified accounting sheets, we have posted them on the Internet openly, many of them. I received $7500 out of an owed $50,000 inheritance and have my bank and husband willing to witness that, all communications go ignored by TD Bank.

This many shady connections around the list of those receiving $55,000,000 arouse many questions. Those who know more about finances than I do should also look into this matter.

THE NAMES ON THE LIST

Who makes up the names on this list?

INSTITUTIONAL INVESTORS

Institutional investors in Norbourg such as a TD stockbroker investing for a government union – the individual investors might never even know that their funds were invested, then their returned money would go to their TD stockbroker?

Not one person in the TD Montreal office thinks a friend and partner of Guy Marc-Aurele married to Yvon Duchaine is an endangerment of their clientele.

MISSING BANKRUPTCY FUNDS

What about the claim of Vincent Lacroix, going ignored because of his criminality, that there should have been a much larger sum left for those he owed, after it passed through the bankruptcy receivers?

TAX MONIES

What about FRANCINE HAMELIN and her co-associates using falsified tax estimates on our estate? How could the tax money also be used as a chance to make money on a Spin-Off Crime?

NO PAPER WORK NEEDED!

Millions of us, Canadian citizens, familiar with the paperwork we need to do to get a tax return, or a business opened, will be stunned to learn that NO PAPER WORK is needed, to get a chunk of the $55,000,000 being returned to Norbourg investors.

ALL YOU NEED IS TO GET YOUR NAME ON THE LIST.

A list connected with YVON DUCHAINE, an associate of GUY MARC AURELE, the husband of FRANCINE HAMELIN, who moves estates between TD Canada Trust, legacies, and TD Waterhouse, altering taxes owed, creating falsified sums, who also connects with the ability to ACQUIRE addresses in the USA and OPEN bank accounts there, i.e. for names on the list requiring some geographical distance from Quebec.

We need to CONTINUE to connect these crimes.

I hope the above information will help others to join together, aware that a few TOKEN honest recipients will obscure the issue temporarily. Other white collar criminals themselves such as Vincent Lacroix may understand the chicanery better, and question why some are still free to do Spin Off Crimes.

*****



Update: April 7 2013

The Teflon Stockbroker Francine Hamelin

Okay, thousands of people experience major problems and feuds around legacy/inheritance issues annually, so why should you read more on this subject?

I have sorted the massive information here into several categories, the detailed is for lawyers, government bureaucrats, and hopefully TD Toronto who will remove the shady stockbrokers Greg Borowik and Francine Hamelin from our TD inheritance.

This is the Simple Version, now linking the offices of TD Bank/TD Waterhouse Montreal with the Norbourg Affair, through the wife of leading litigator Yvon DuChaine, Francine Hamelin, defrauding my father's estate, beginning in 2008, who is also involved with Project Colisee, a second major Montreal investigation, through her partnership with Guy Marc-Aurele.

The Simple Version contains the latest information and should be read by all Canadians using stockbrokers, and using banks to handle their family inheritances especially banks like TD Canada Trust with parellel stockbrokerages such as TD Waterhouse who move the inheritances out of the Bank Area and into the Stockbrokerage Area.

Not one person inheriting from this estate wanted the stockmarket area involved. How could that happen?

It was there, at TD Waterhouse, Montreal, in the fall of 2008, that a stockbtoker, Francine Hamelin, admittedly desperate for sudden money as a major victim of another Montreal financier, the leader of the crime L'Affaire Norbourg, grabbed ahold of my father's life savings, and stole almost all of my inheritance from my father, a past President of the Canadian Chamber of Commerce.

I can prove:

Francine Hamelin was a derivatives stock trader, unknown to our family, signing in on our legacy

Francine Hamelin is NOT a banker, or someone who shoujld be near a family inheritnace

Francine Hamelin was a business partner of Guy Marc-Aurele and in Las Vegas, Nevada yet, while they live primarily in Montreal. Guy Marc-Aurele is a popular topic in the Montreal media as a lifelong friend of Vito Rizzuto, the jailed leader of the Canadian Mafia.

Francine Hamelin is also the wife of Yvon Duchaine, the hidden factor in the investors' litigation against the Quebec government for thousands of people who lost money in the Norbourg Affair. He probably did not want it made known that his wife was doing business with Guy Marc-Aurele, while he acted like an outraged victim accusing the government of not protecting him properly.

All this, because my father's life savings were moved out of the Bank Area, into the Stockbrokerage Area, by the first trusted handler, June Taylor, in the first months following his death July 31, 2008. She said she was retiring, though she was still active in 2009, at TD according to Internet news bulletins.

The husband of one of the stockbrokers defrauding us, Yvon DuChaine, married to Francine Hamelin, is a leader of thousands of people defrauded in the Norbourg Affair, and therefore this is a Power Couple surpassing credibility, free to do whatever they want.

Yvon DuChaine and Francine Hamelin connect to:

Guy Marc-Aurele, and therefore to

Project Colisee

Vito Rizzuto, close friend of Guy Marc-Aurele

Police investigation into this matter

Norbourg Affair

Thousands of investors in the litigation against

Police investigation into this matter

Please QUICKLY look at the pages supporting the above information and proving this website. And on the sidebar. That's the new and interesting stuff.

It's true that ONE POWER COUPLE whose wife was short of cash in fall of 2008 - get to connect to the police, the government, the Mafia, and ordinary folks doing wills and banking.
3677842 Canada Inc, Yvon DuChaine, spouse of Francine Hamelin, leads and wins in fight to get $55,000,000 from government, sends Vincent Lacroix to jail, ignoring the Hamelin partnership with Guy Marc-Aurele, her theft at TD Bank, and Marc-Aurele's conviction!
This 2013 update explains why a massive telephone, email, letter, and website fight to stop the defrauding of my father's estate at TD Bank/Price Waterhouse in Montreal was DOOMED to fail, because of a clever business trick on the part of the estate handlers:
Jocelyne Meloche
Greg Borowik
Francine Hamelin
The Montreal Police and the local RCMP refused to look at the papers we sent, for one reason...
FRANCINE HAMELIN was a POLICE INFORMANT AGAINST THE MONTREAL RIZZUTO FAMILY AND ITS MONTREAL CONNECTIONS on the massive Project Colisee investigation into organized crime in the Montreal region.
Now we know WHY no one investigated this, we begin to fight this problem again.
1. With massive amount of paper data proving ourselves correct, we got nowhere in 2011 - 2012, we include that backlog on an earlier site
2. The second stage was the shock of finding out one of the 3 signatures on the Estate Fraud, Francine Hamelin, had powerful ties to a friend of the Rizzuto family, a friend convicted and charged in the Project Colisee investigations
NAIVELY, we believed that would jolt TD Bank into giving us the missing 80% of our inheritance.
But we did not know at this stage, FRANCINE HAMELIN WAS WORKING BOTH SIDES OF THE STREET, AS A POLICE INFORMANT.
3. Now we wonder why someone so deceitful and dishonest would remain uninvestigated. She is connected to powerful people in Quebec.
The scam was planned, knowing her friends in the police would protect her as a police informant.
PLEASE READ ENCLOSED DOCUMENTS.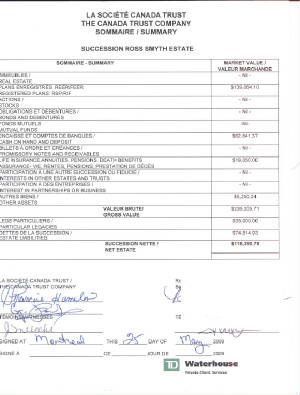 Firstly, in response to questions from a helpful Securities Commission official, the three names listed on the handling of this estate were NEVER GIVEN MANDATE by our father, Ross Smyth.

For many years June Taylor was the estate handler named by our father as being the person responsible at TD Canada Trust.

He died on July 31 2008, and one of the creators of this website was with him daily for several months before he died. Several relatives inheriting were in touch with June Taylor until his death, concerning his inability to purchase some things he needed in the hospital, with sympathy rexpressed by June, and no money released.

In September MONEY MARKET FUNDS, A TYPE OF INVESTMENT, began tumbling rapidly around the investment world. Lehman Brothers also began collapsing, and suddenly lo and behold in October, 2008, a new name appears on our father's estate.

GREG BOROWIK, WITH A HELPER, JOCELYNE MELOCHE.

More worrying, a new version of the TD Bank Name appears: TD WATERHOUSE.

There is a strange and urgent push to remove a lifetime of savings from BANK INSURED DEPOSITS AT OTHER BANKS into, you guessed it, MONEY MARKET FUNDS.

Next, we want to move on to the new upset, as of February and March 2011.

Of the three names signing on the estate, in 2009, Jocelyne Meloche, Greg Borowik, and Francine Hamelin, the last escaped our total analysis.

Francine was wise to keep a low profile, a very low profile, as she is the most interesting of the lot, so far.
She is a derivatives stock trader
She is part of the inflated Revenue Canada charges
She is part of the inflated Revenu Quebec charges
She is part of many lies on these sheets, including a return of Estate Tax that was never deducted in the first place
She is A BUSINESS PARTNER OF GUY MARC-AURELE, a target of PROJECT COLISSEE, for his friendly business dealings with the head of the Sixth Family, the Canadian Mafia
Guy Marc-Aurele was known for creative and fuzzy accounting and charged successfully with major taxation fraud
Hailing from the small town of Baie Comeau, she seems to exist in some magical legal zone, where she can even access the names, addresses, phone numbers, family trees, bank statements, wills and estate information, credit card records, and whereabouts of credit card users, on the same police officers, Queen's Counsels, and judges who try and indict connections of the SIXTH FAMILY, which might be of interest to her as her own Nevada business partner was an especial target
Why are these powerful men, not powerful perhaps as individuals, but powerful as a network, showing more concern that a partner of Guy Marc-Aurele is accessing all our banking information?
We are POSTING NEW INFORMATION because there has been no money wired to our bank account, and because the last LEGAL RELEASE we studied was from January 2010, sent the same time as the sickening Alice In Wonderland accounting sheet,

NEW NAME:

YVON DUCHAINE, THE HUSBAND OF FRANCINE HAMELIN. And we ask you, could not your own wife have asked Greg Borowik to give OUR OWN FATHER'S LIFE SAVINGS. To just wire this money into our bank accounts, to cool it with the games, and the manipulations, and phony looking legal release.

This fresh information (and we are still holding much more, located with friends around the world, who can create site mirrors) is information we would rather not have been involved with.

Yvon Duchaine hails from Jonquiere, Quebec, another small town.

He was previously married, and is a successfull businessman with a Industrial Parts Business on Rue Jarry Est, and is also involved in high finance: he has a second financial company listed at the same address, as selling RBC financial products.

With the zany fun of bank deregulation, this is probably quite legal, though with hundreds of RBC banks all over Canada, forgive us for wondering why any Canadian would not walk into a RBC Bank to buy a RBC bank product. The company listing does not imply these are RBC gym tote bags or golfing hats, it is a financial services company.

With his wife involved with Guy Marc-Aurele in Nevada business, he might never know about that business rrelationship, though he and his wife own a Hollywood, Florida holiday home, a 5 minute drive - thanks Google Maps - from the Hallandale, Florida holiday home of Guy Marc-Aurele, the business partner of both the head of the Canadian Mafia, now in jail in Colorado, and also of his own wife, the incredibly lucky Francine Hamelin.

***

Where is the protection for our family?

Where is the protection for the hundreds of men and women who worked on Project Colisee?

Why is this one woman, a derivatives stock trader, from the tiny town of Baie Comeau, so blessed with the ability to resist scrutiny and examination?

This would have ended the day that our father's estate was paid out in full, so we could all return to our work, our professions, and pleasant daily life.

*****

The above is earlier writing from Stage Two, when we learned of Francine Hamelin's friendship with the partner of the Rizzuto family, and expected some TD and police enqiry into her, and before we knew she was a POLICE INFORMANT.

*****